What!? Did you say get hydrated?
YES!!! Get hydrated-get your hair and body fluid and flowing into better health.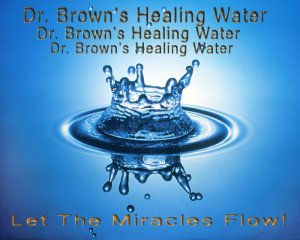 People come to me with a wealth of needs for their natural hair and scalp care. From thinning, to breakage, to dryness and alopecia. From transitioning, to styling, to curly cuts and more. I do everything for natural hair. No chemical processing. As a holistic practitioner, it is my responsibility to provide my clients with access to and information about natural products to assist them on their journey to better hair, scalp and body.
One of the ways I do that is by recommending Dr. Brown's Healing Water. My family and I also take this healing elixir and have been getting TERRIFIC results for almost 2 years.
Check out this article about Dr. Brown's Healing Water and what it can do for your hair. Clients are getting great results and continue to receive the blessings abound from adding this healing elixir to their purified or spring water.
Click here: Dr. Brown's Healing Water for Your Hair
Order here: Dr. Brown's Healing Water on Facebook
or order here: Dr. Brown's Healing Water on Ecrater
In person:
Panera Bread Glenmont Square 15 Bloomfield Avenue
Montclair, NJ
Every Thursday from 6pm-9pm
Meet THE MAKERS of the water, share RESULTS, order WATER, get more INFORMATION so you can ORDER.
View Testimonies:
http://www.youtube.com/watch?v=u-S8QL5Fk2w
http://www.youtube.com/watch?v=-E9Xa4ywXM8
View Ahava's experiences with Dr. Brown's Healing Water: